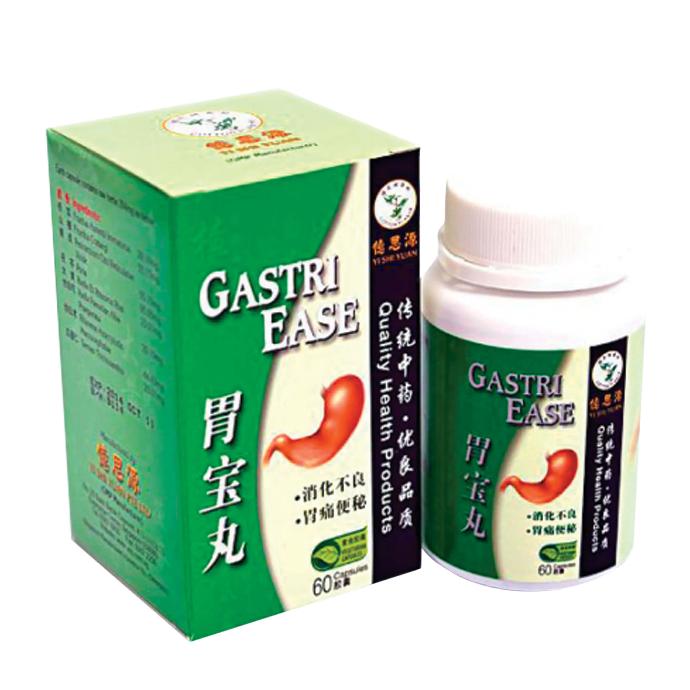 60's 胃宝丸 Gastri Ease
---

---
---
Share this product:
芳香化湿,开胃止呕,益气健脾,理气和中。用于胃痛,消化不良,胃酸过多,肚腹胀风,胃热便秘。
For gastric pain, alleviate stomachache, indigestion, and distension of stomach.
Each 354mg capsule contains raw herbs as below:

瓜蒌仁 Fructus Trichosanthis……….23.01mg
大黄 Radix Et Rhizoma Rhei……….23.01mg
炒白术 Rhizoma Atractylodis Macrocephalae……….44.43mg
枳实 Fructus Aurantii Immaturus……….29.10mg
山楂 Fructus Crataegi……….55.15mg
炒白芍 Radix Paeoniae Alba……….29.10mg
青皮 Pericarpium Citri Reticulatae Viride……….55.15mg
茯苓 Poria……….95.05mg
每日服1-2次,每次5粒。
Take 5 capsules, 1-2 times daily.
忌食辛辣与油腻。孕妇禁用。
Avoid greasy and irritated food. Avoid use in pregnant women.