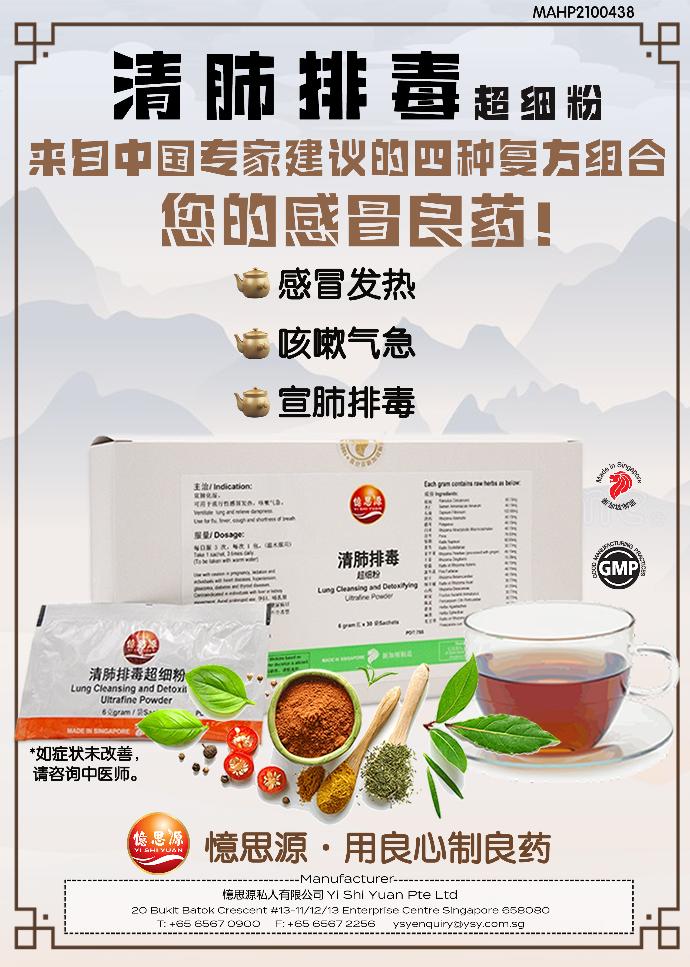 Approved by Singapore Health Sciences Authority
Since April 2020, with unremitting efforts, we has been approved by the HSA to produce the Lung Cleansing & Detoxifying ultra-fine powder.
Since the beginning of sales, the monthly sales volume has exceeded 20k bags.
Purchase Method
May purchase from our retail store.
Chinatown Point
#02-27,133 New Bridge Road
Singapore 059413
May order from our website also.
清肺排毒超细粉
click the link for order.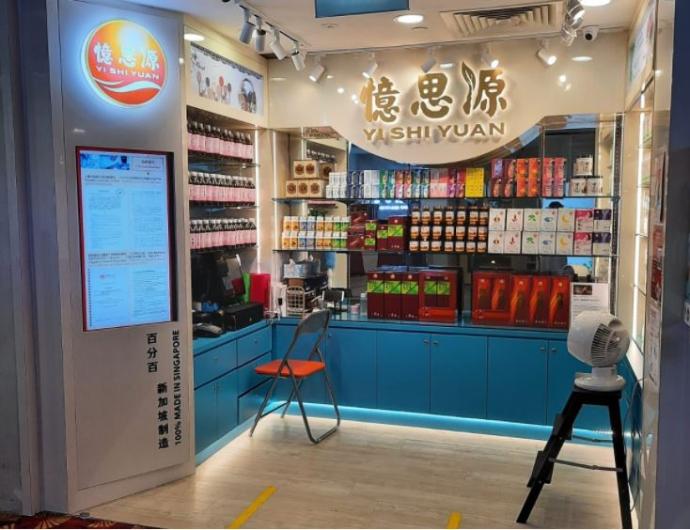 It can also be purchased at Chinese Medical Hall and Clinic. May refer to below location.
 古今药行📞65631983
Blk109 #01-12 Bukit Batok West Ave 6 Singapore 650109
福南行参茸药行📞65661618
Blk152 # 01-262 Bukit Batok ST.11 Singapore 650152
维达力保健养生坊📞65620988
Blk204 #01-110 Bukit Batok ST.21 Singapore 650204
思恩中医药诊疗所(金文泰)📞67747900
Blk433 #01-264 Clementi Ave 3 Singapore 120433
Yes Natural(金文泰)📞67780280
Blk 431 Clementi Ave 3 #01-312 Singapore 120431
康裕参茸药业(金文泰)📞67784373
Blk450 #01-279 Clementi Ave 3 Singapore 120450
济生中医药行📞65614709
#01-09,61 Terban Gardens Road Singapore 600061
泰星中西药行📞81631718
Blk818 #01-07 Choa Chu Kang Ave 1 Singapore 681818
浩华中医诊所📞91769040
Blk287 #02-211 Choa Chu Kang Ave 2 Singapore 680287
同安堂📞68772133
Blk475 #01-30C Choa Chu Kang Ave 3 Singapore 680475
泰星中西药行📞67606001
Blk624 #01-236 Choa Chu Kang ST.62 Yew Tee Shopping Centre  Singapore 680642
同侨参茸药行📞97552740
Blk258 #01-44 Bukit Panjang Ring Road Singapore 670258
鄺慧芳中医医疗中心📞64250890
Blk135 #04-349 Jurong Gateway Road Singapore 600135
万隆参茸药行📞65609990
Blk252 #01-165 Jurong East ST.24 Singapore 600652
万生堂药业百货公司📞65605449
Blk252 #01-169 Jurong East ST.24 Singapore 600652
吴秀环中医诊疗所📞65648563
Blk428 #01-248 Jurong West Ave 1 Singapore 640428
长福补品 CHANG FU TONIC📞91484888

Blk497 #01-03 Jurong West ST.41 Singapore 640497
永兴補品📞68964346
Blk492 #01-60 Jurong West ST.41 Singapore 640492
得忱中药房📞65673928
Blk557 #01-399 Jurong West ST.42 Singapore 640667
YUEN AN ZHAN GINSENG MEDICAL HALL
📞63971076
#B1-22, 1 Jurong West Central 2, Jurong Point Singapore 648886
裕华国货📞68611857
#03-05/06/07, 1 Jurong West Central 2, Jurong Point Singapore 648886
宜全针灸成药中心📞62651246
Blk221 #02-158 Boon Lay Shopping Centre,Boon Lay Place Singapore 640221
源安栈参茸药行📞62521211
#B2-06, 7 Petir Road Hillion Mall Singapore 678278
大元参茸药行📞67877042
Blk504 #01-319 Tampines Central 1 Singapore 520504
中和堂参茸药行📞67814208
Blk138 #01-104 Tampines ST.11 Singapore 520104
裕兴海味参茸药行📞69064337
Blk601B #01-03 Tampines Ave 9 Singapore 522601
华坤中医诊所📞92262613
#02-24 Brooke Road, Katong Plaza Singapore 429979
李金发医药针灸诊疗所

📞63454806

#01-31 Brooke Road, Katong Plaza Singapore 429979
宏泰人参燕窝有限公司📞62438323
Blk632 #01-832 Bedok Reservoir Road Singapore 470632
仁爱中医诊所📞67883070
Blk741 #01-3113 Bedok Reservoir Road Singapore 470741
大安参茸药行📞98188969
24 Sea Breeze Road Singapore 487455
Sing Yan Tang Chinese Medical 
📞

62910558

#02-39, 809 French RD, Kitchener Complex Singapore 200809
同德善堂念心社中医药施诊所📞62552826
Blk101 #01-08 Jalan Rajah Singapore 522601
同兴堂(巴西立)参茸药行📞65815004
Blk259 #02-34, Pasir Ris ST.21 Singapore 510209
源安栈参茸药行📞64892550
#01-31A, 11, Rivervale Crescent, Rivervale Mall Singapore 545082
医易佳传统中医局与自然诊疗中心📞62511878
Blk86 #01-937 Whampoa Drive Singapore 320086
廣医堂中医药中心📞67411324
#01-132, 118 Aljunied Avenue 2 Singapore 380118
佃仁森中医医务所📞67433461
731 GEYLANG ROAD (Between Lor 37 & 39) Singapore 389642
Yes Natural(芽笼)📞68461580
51/53 Lor 27 Geylang  Singapore 388181
泰星保健药行📞63685441
#01-321, 19 Marsiling Lane Singapore 730019
怡林中医药行📞63649130
Blk132 #01-214 Marsiling Rise Singapore 730132
源川栈参茸药行📞62693805
#02-20,4 Woodlands ST.12,Marsiling Mall Singapore 738623
源安栈参茸药行(Vista Point)📞68936302
Blk548 #01-01 Woodlands Drive Singapore 730548
泰星参茸药行📞62699215
Blk678 #01-732 Woodlands Ave 6 Singapore 730678
永兴隆中医针灸参茸药行📞67524381
Blk414 #01-1851 Yishun Ring Road Singapore 760414
回春燕窝参茸海味药行📞62846703
Blk264 #01-231 Serangoon Central Singapore 550264
德义中医药诊疗所📞65523189
Blk266 #02-261 Serangoon Central Singapore 550266
万山赞中医诊疗所📞63821091
Blk254A #01-183 Serangoon Central Singapore 551254
谢吉斋医师📞62883675
1010-A Upper Serangoon Road Singapore 534748
德泉参茸药行📞62806814
Blk2 #01-40 Lorong Liew Lian Singapore 531002
杏森泰参茸行📞63821513
Blk809 #01-184 Hougang Central Singapore 530809
福田针炙医药中心📞66863512
Blk251 #01-K1 Hougang Ave 3 Singapore 530251
万寿春参茸药行📞64529376
Blk338 #01-1610 Ang Mo Kio Ave 1 Singapore 560338
富乐康中医宏茂桥分院📞91196656
Blk226C #01-657 Ang Mo Kio Ave 1 Singapore 563226
同兴堂参茸药行📞64520621
Blk232 #01-1214 Ang Mo Kio Ave 3 Singapore 560232
防加治医药中心📞64530028
Blk302 #01-1840 Ang Mo Kio Ave 3 Singapore 560302
長青中醫針灸中心📞64598638
Blk163 #01-452 Ang Mo Kio Ave 4 Singapore 560163
谷香源📞62529502
Blk720 #01-4116 Ang Mo Kio Ave 6 Singapore 560720
宏泰人参燕窝有限公司📞62697781
Blk448 #01-1705 Ang Mo Kio Ave 10 Singapore 560448
坤利成百货商行📞64533967
Blk555 #01-1950 Ang Mo Kio Ave 10 Singapore 560555
陈氏中医针灸药房📞64511185
Blk447 #01-1679 Ang Mo Kio Ave 10 Singapore 560447
长安中医理疗所📞64545890
Blk449 #01-1731 Ang Mo Kio Ave 10 Singapore 560449
强安药行📞63867600
Blk682 #01-374 Hougang Ave 4 Singapore 530582
万寿堂📞62883267
Blk620 #01-278 Hougang Ave 8 Singapore 530620
宏茂桥中医诊所📞62807172
Blk102 Hougang Ave 1 #01-1191 Singapore 530102
裕华国货📞65384222
70 Eu Tong Sen ST Singapore 059805
峰标燕窝📞65355118
#01-55,Upper Cross ST,Hong Lim Complex Singapore 050531
宏昌参茸行私人有限公司📞65350896
Blk531 #01-56,Upper Cross ST,Hong Lim Complex Singapore 050531
万泉行参茸药业📞62213900
#01-10/20, People's Park Shopping Centre,Ground Floor Singapore 05835

新中医药保健有限公司📞65326107
#03-19, 100 Eu Tong Sen ST, Pearl's Centre Singapore 0598127
唐城参茸药行📞62212683
254 South Bridge Road Singapore 058805
ALL WELLNESS HEALTH MATTERS📞62212683
Blk32 #03-1048 New Market Road Singapore 050032
李永升内科针灸诊所📞62201872
Blk129 #01-131 Kim Tian Road Singapore 160129
永万隆药行📞67333510
Blk3 #01-113 Jalan Kukoh Singapore 161003
中医刘伯棠📞64759657
Blk26 #01-05 Jalan Membina Singapore 164026
赵氏医务所📞62919671
#04-13,149 Rochor Road Fu Lu Shou Complex Singapore 188425
信祥参茸药行📞63368031
#B1-15, 149, Rochor Fu Lu Shou Complex Singapore 188425
华康中医诊所📞65350896
 Blk1 #01-09 Tanjong Pagar Plaza Singapore 082001
Avant TCM Clinic PTE LTD📞68731007
#01-33,36 Beo Cres Tiong Bahru Singapore 160036
YES NATURAL TRADING PTE LTD📞62876929
#07-01/02, 15 Shaw Road, Teo Industrial Building Singapore 367953
恩约中医诊所📞90067157
#03-16,511 Guillemard Road (Grandlink Square) Singapore 399849
友廉参茸药行📞62518185
Blk1004 #01-1485 Toa Payoh Industrial Park Singapore 319076
宏泰人参燕窝私人有限公司📞64759657
Blk279 #01-48 Bishan ST.24 Singapore 570279
Si En TCM Medical Clinic Pte Ltd📞67766720
#10-28,10 Sinaran Drive, Novena Medical Center Singapore 307506
纯健康📞64756051
#02-163 Queen's Road Singapore 260003
宝康中医诊疗所📞62719118
Blk164 #03-3639,Bukit Merah Central Singapore 150164
东山中医药中心📞62745005
Blk164 #03-3647,Bukit Merah Central Singapore 150164
宏仁中医诊所📞62642829
Blk1 #01-4518 Jalan Bukit Merah Singapore 150001