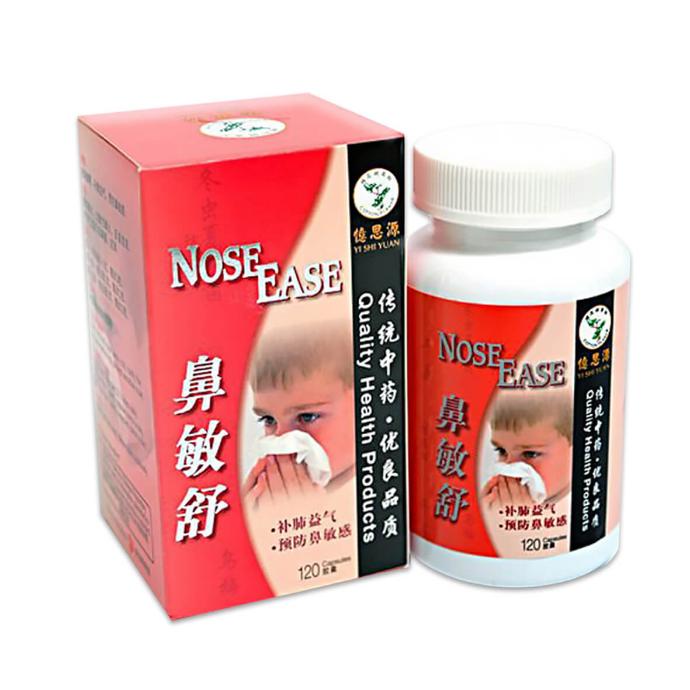 120's 鼻敏舒 Nose Ease
---

---
---
Share this product:
祛风散寒,补肺益气,预防鼻敏感。
Expel wind and clear away cold, tonify the lung and reinforce qi, prevent sensitive nose.
Each 360mg capsule contains raw herbs as below:
银柴胡 Radix Stellariae……….118.86mg
冬虫夏草菌 Cordyceps Sinensis……….34.28mg
防风 Radix Saposhnikoviae……….118.86mg
干姜 Rhizoma Zingiberis……….29.72mg
白芷 Radix Angelicae Dahuricae……….90.28mg
五味子 Fructus Schisandrae……….118.86mg
桂枝 Ramulus Cinnamomi……….29.72mg
辛夷 Flos Magnoliae……….60.56mg
乌梅 Fructus Mume……….118.86m
成人:每日服2-3次,每次3粒;
4岁-8岁:每日服2次,每次1粒;
9岁-12岁:每日服2次,每次2粒。
Adult: Take 3 capsules, 2-3 times daily. 
4-8 years old: Take 1 capsule, 2 times daily. 
9-12 years old: Take 2 capsules, 2 times daily.
无已知禁忌症及副作用。

No known side effect and contraindication.